Facing Fire
Words by Ashley Fritsch

Photos by Noni Hyett
It's 76 minutes into the shift when the first call comes in: a coding alarm at the Quest apartments in McCrae Street, central Bendigo.
It's the first of six call-outs for the day for the career firefighters on Bendigo's 'B-shift'.
They have 90 seconds to gear up and get into the truck, and six minutes to arrive on scene.
"No two jobs are the same," says leading firefighter Riley Lonsdale. "Even if you go to an alarm, it's different every time. And every fire you go to is different, you learn something out of every job you go to."
The 29-year-old has been at the Bendigo station for five years, but with the Country Fire Authority for six-and-a-half years.
"It's a great job and I love the variety. The CFA, and firefighting in general, you're constantly working to improve yourself."
Two new members will join the team at the Bendigo integrated station this month, bringing the total number of career firefighters stationed there to 49.
They work in four shifts (A, B, C and D) of eight firefighters, rotating through days and nights. Four days on, four days off.
The career firefighters support the 50 volunteers also based at the Bendigo station, 23 of which are operational firefighters.
Senior station officer John Lane has been with the organisation for 27 years, spending about 16 of those at Bendigo.
"As you progress through the ranks, there's a lot more challenges and a lot more responsibility," he says. "As a firefighter even though you have got responsibilities, you're under the direction of either a leading firefighter or station officer. Now when you go to jobs it's up to me to make the decisions and everything rests on my shoulders."
He says things have changed a lot over his time with the CFA, from how units are dispatched, to updated technology and appliances.
"When I first started here on a day shift you would do two hours turnabout in the watch room," he says. "All the fire calls for pretty much the northern part of the state came into this watch room, same with all the road accident rescue."
Now dispatch runs out of the control centre at Ballarat.
"It has changed a lot and I don't know whether it's changed a lot or I've change a lot," he says.
"When I first got here I thought some of the firefighters seemed incredibly old, but looking back at it now they were probably about my age now."
Firefighter Nicole Eames will have been with the CFA for three years in February. With a background in physiotherapy, it was only when her husband's best friend applied for the CFA that she began to start thinking about firefighting.
"I started reading about it and thought, 'Oh this actually sounds pretty good', and so I applied," she says. "It's good that I did because I've loved it. I would never go back to physio."
She says firefighting combines the things she enjoyed about her career as a physiotherapist - teamwork and helping others - with a more hands-on role.
"This job's got variety, it's more unpredictable and it's more active. Hospitals are a lot of paperwork."
This morning's job at the Quest turns out to be a false alarm, but there's another four jobs within the next hour-and-a-half, sending crews across the city.
Eames says it's a physically demanding job for anyone, and it takes work to maintain the strength and endurance required of firefighters.
"I do something every day. I swim, I run and do weights and yoga and some days I will do two or three of some of those things."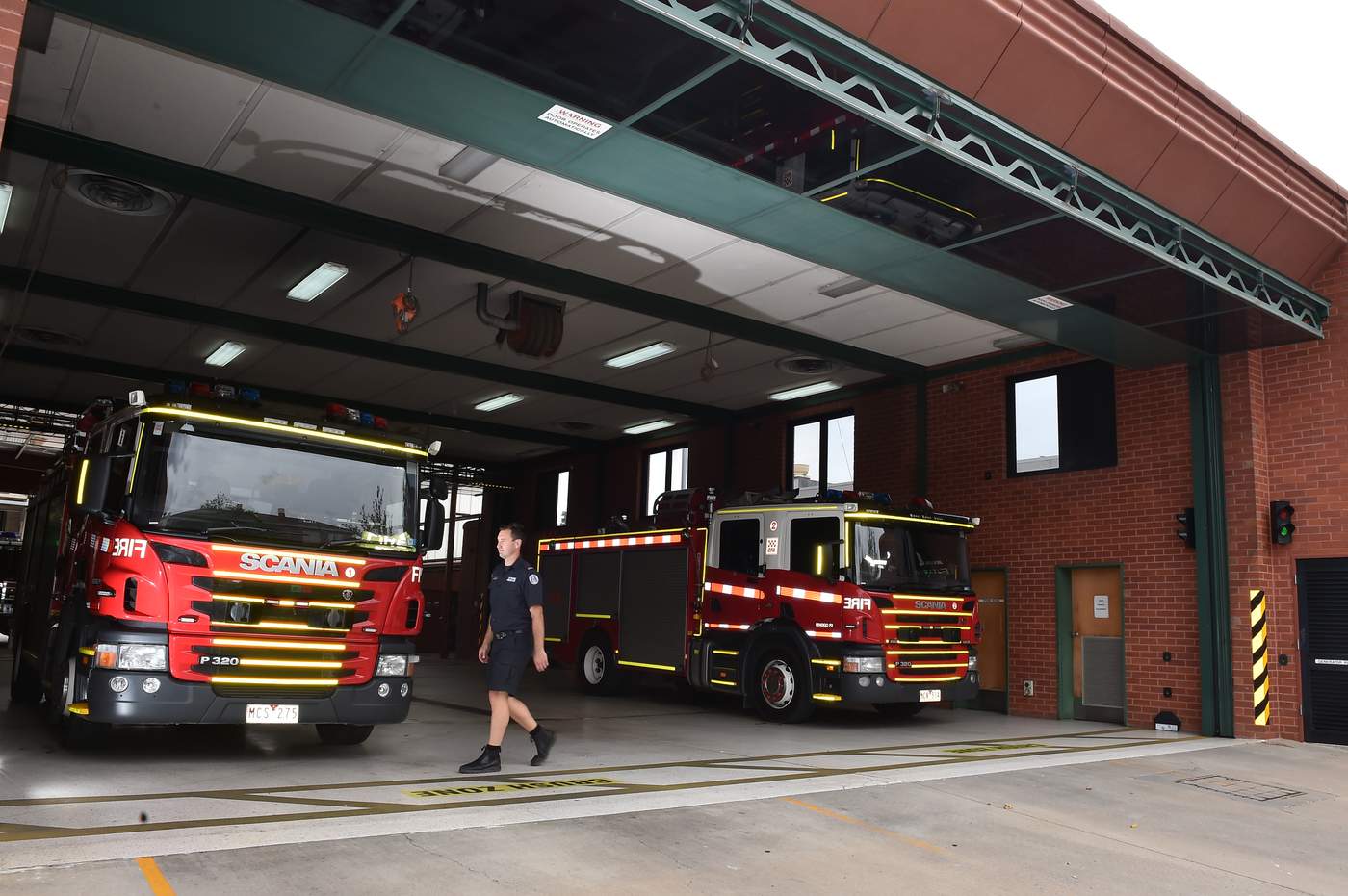 For Lonsdale, he got into the CFA after working interstate in mining emergency services.
"I know a lot of people might just look at firefighting and say, 'hold a hose, put water on the fire, how hard could it be?' but there's actually a lot that we have to know and remember," he says.
"From pumping, to forcible entry into buildings, to road accident rescue, to first aid above the level of a normal first aider... it's a lot of different trades rolled into one position. You need to know a fair bit about a lot and everything about some things."
None of the six call outs today involve trauma, but Lane says it's a totally different thing when crews respond to these types of incidents.
"That knocks the firies around, it knocks all of us around. I've ridden the road rescue for years and years and seen some pretty horrendous things… I've dealt with it OK but you never know when that next one's going to be the one that will tell your mind, 'No, that's enough'.
"And that can happen to anybody at any time, it's not about being tough or anything like that."
He says the crew and the CFA in general has a good support system in place.
"We all look after each other and we all look at each other for signs somebody's not travelling too well with something."
From mid-next year, the Bendigo firefighters will also have the added role of responding to all code zero jobs - or potential cardiac arrest patients - with Ambulance Victoria.
"So if someone was walking down the mall now in Bendigo and had a heart attack and fell to the ground, at the moment we wouldn't be called," says Lonsdale. "But with the EMR program we would."
The Emergency Medical Response (EMR) program is being rolled out across the state to integrated CFA stations, with the Bendigo station slated for the next financial year.
The program aims to reduce response time to cardiac arrest patients, improving their chance of survival.
Both Lane and Lonsdale worked in Shepparton when the program was first piloted there in 2011.
"It was really good and you really did feel like you were helping people out," says Lonsdale. "On my shift over there, we never saved anyone... but the other shifts had saves.
"You only need one save to make it worthwhile."
Riley Lonsdale

leading firefighter
How long have you been in the CFA?
Six-and-a-half years – five at Bendigo, the rest at Shepparton.
Why did you join the CFA?
I've always had a bit of an interest in this field - I worked in mining emergency services before this and was working in South Australia and Queensland doing a similar sort of role but just localised to the mine itself. And basically I just wanted to get home, closer to family, and the CFA seemed like the best option. So I just worked, and worked, and worked until I got in.
Can you explain what you do day-to-day in one sentence?
We respond to emergencies and make sure we're trained in the skills we need so we can perform to our best.
What's your favourite part of the job?
I think one of the best parts is working with a pretty tightknit bunch of guys. Normally we've got our shift and we all work together every day. It's just a good dynamic, you're always together, always the same sort of team and getting thrown into jobs and incidents as well knowing that you've got that team with you – it's quite rewarding in that sense.
What's your least favourite part?
We see a lot of trauma.
When you get a call like that, do you think about it or prepare in a different way?
Yeah, I guess on the way to the job you're already preparing yourself mentally. The times when it really makes it harder is if you're heading to something else. We've had times where we've headed to alarms at places and you get there and it's a medical emergency. This puts you under more pressure as you have less time to prepare, but our job is very dynamic.
What about after, when you leave the scene of an accident or something traumatic?
If there's something bad at a scene we always try to do a shift debrief where we all talk about it and often that's on the way home in the truck. Sometimes even just filling in the blanks of what happened or what's occurred can help out as well because it's not leaving that doubt in your mind.
What do you do differently in your role as a leading firefighter to that of a firefighter?
The difference between a firefighter and a leading firefighter is a leading firefighter can be a crew leader so you can crew lead a truck say of three, four, five, people. It's a big step from a firefighter to a leading firefighter because you go from never running an incident yourself to being a crew leader on an appliance or running an incident.
What made you decide to do that?
Wanting to constantly improve – by doing that training you learn more and it makes you a better firefighter. It's certainly a good role because as a leading firefighter you still get to put the BA (breathing apparatus) on, go into the building and crew lead the other guys, whereas an officer generally will run larger jobs and they'll stand out the front and they don't often get to put on a BA and get their hands on the gear. It's a little bit the best of both worlds.
Is there much downtime?
It certainly doesn't happen on day shift, there's too much going on. Being at a larger station like Bendigo, there are eight people and everyone's got their own different training needs so you're constantly chasing your tail. My job is to try to pinpoint what everyone needs and then work it all in so we've got enough time during the day to do it. We don't have a lot of downtime during the day. At night, once all our jobs are done, that's a bit of a different story.
Do you sleep at night?
Sometimes, we have 'rest and recline' periods.
What happens if you get a call?
We have to be up and out the door in the truck in under 90 seconds. So you don't really sleep very well. You sleep with one eye open.
The cliche, cats up trees?
Oh I've had plenty of cats up trees – we went to one just recently out at Spring Gully twice. Same cat, same tree.
Any messages or advice for the summer fire season?
As we all know, the grass fire risk this year is going to be quite high because of the amount of water we've had. If you're in a rural property, it's just to prepare your property. The more you do to prepare your property the safer you and your property will be. If the house is surrounded in trees, bushes and long grass no fire brigade in the world is going be able to save some of these houses. They're just unprotectable.